"Pound for pound, glulam is stronger than steel and has greater strength and stiffness than comparably sized dimensional lumber."
Inside Megawide's hip office, an industrial creative space with an easy labyrinthine complexity, Louie Ferrer offers me the best seat in the house ― a classic 1956 Eames Lounge Chair, made of plywood and leather and which has become an icon of modern living. I savor the moment of pure comfort and luxury before going around the whole office floor.
As it is with the Eames, style and function intersect everywhere in Megawide's executive office in Santolan, from the elegant beam down light in chairman Edgar Saavedra's room to Louie's olive-colored angled desk and everything in between.
When it comes to form and function, Saavedra and Ferrer, the young and dapper engineering duo behind Megawide, sure know the real deal. Ferrer is Megawide's managing director for transportation.
Glued laminated timber
It is therefore no surprise that one of the structural elements the company is famous for is the glulam or glued laminated timber, which can be formed into strong and stylish designs.
In industry parlance, glulam is a stress-rated engineered wood beam composed of wood laminations, or "lams," that are bonded together with moisture-resistant and strong structural adhesives.
"Pound for pound, glulam is stronger than steel and has greater strength and stiffness than comparably sized dimensional lumber. Increased design values, improved product performance, and cost competitiveness make glulam the superior choice for projects from simple beams and headers in residential construction to soaring arches for domed roofs spanning more than 500 feet," according to the Engineered Wood Association, a US-based trade group.
It is versatile, from simple to curved, from straight to complex.
Megawide's approach to design
Given Edgar's and Louie's passion for quality furniture and functional structures, Megawide's character shows in its design philosophy, which Edgar describes to be "as honest as possible."
"We always seek to keep our structures as honest as possible… When we say honest, we mean we don't have to paint or clad or embellish a building too much ― as much as possible, keep it bare and clean," he tells Property Report.
Megawide's architect Winston Shu coined the term.
"The barer something is, the more honest it is, the more natural it comes across," Edgar says.
"Comfort and function are key," he adds.
Mactan-Cebu International Airport
Guided by this design philosophy, Megawide built the Mactan Cebu International Airport (MCIA) with wood as a big part of its structural elements.
"From the onset, we didn't want to build a typical terminal for MCIA. Edgar and I are both heavily influenced by modern Japanese and European designs. We're always after simplicity and cleanliness in buildings, even interiors. Steel and glass may seem like the obvious choice of materials but we didn't want to be limited by convention. Disruption is very much a Megawide quality," says Louie.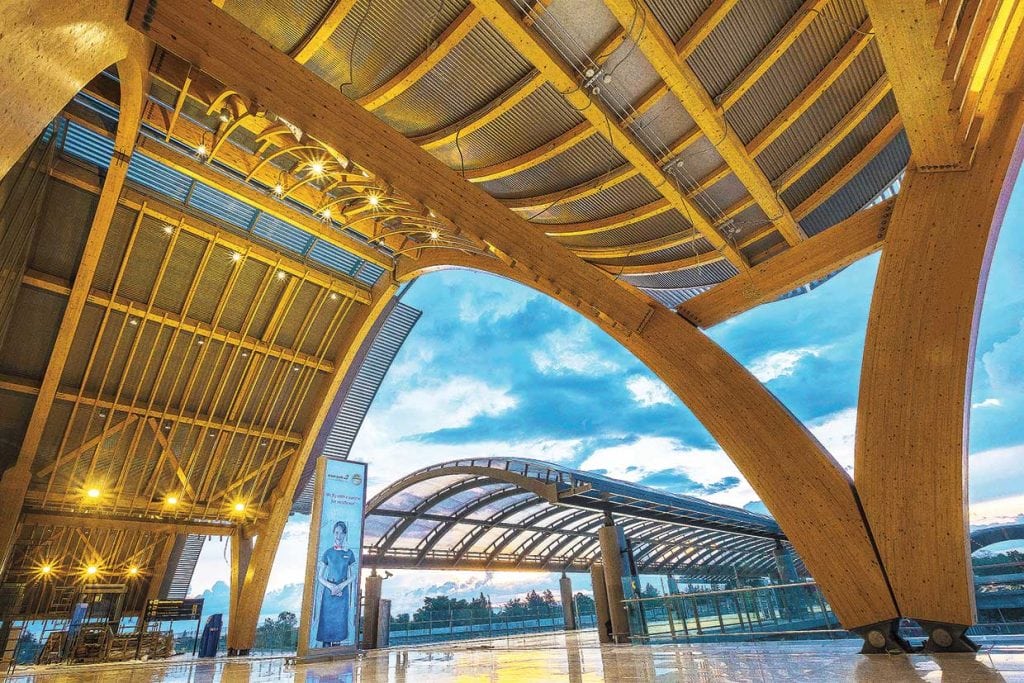 The Island of Cebu itself inspired Megawide to use wood.
"Cebu is a favorite tropical resort destination worldwide. It's recognized as the furniture capital of the Philippines and its artisans and craftsmen are also world-renown. It only followed that whatever we engineered had to represent Cebu and its people so we began exploring possible materials we could use in construction, even unconventional ones," says Louie.
Edgar adds: "We didn't want to build just the typical steel and glass airport. We had to be different, and we needed to express Cebu's island heritage."
They also found inspiration in old European churches around the world which used wood as structural elements.
"We were struck by the idea that old European churches largely had wood as structural elements and these are structures that have been standing for centuries! So when we were looking for structural materials to build MCIA, we were keen on the idea of using wood ― engineered wood, to be precise ― to ensure it would be longer-lasting," Louie says.
One of their foreign consultants from Germany said that glued laminated timber was a well-known material in his home city and that the use of engineered wood was really gaining popularity.
"It also helped that our architect Winston Shu also suggested the use of timber for the structure," Edgar adds.
Their team went to Germany to study it firsthand and to get the correct information. That's the advantage of being a diverse organization, you can get different ideas and make an informed decision, Edgar says with pride.
And the rest, as they say, is history.
Megawide prides itself as having successfully built one of the world's best airports, the MCIA.
Today, visitors traversing the airport's Terminal 2 marvel at the glue-laminated timber beams that make up the roof structure. It is rippled with sleek, elegant curves that easily mimic the waves of the deep blue seas surrounding Cebu.
Natural light seeps through the arches that span every 30 meters, making the terminal as column-free as possible with a glazed façade in the middle, completing the structure.
Is it reliable and strong?
Aside from MCIA, Megawide used glulam for the Clark International Airport New Passenger Terminal Building, which they also built.
But in a scorching hot country like the Philippines, with termites and all, is glulam practical?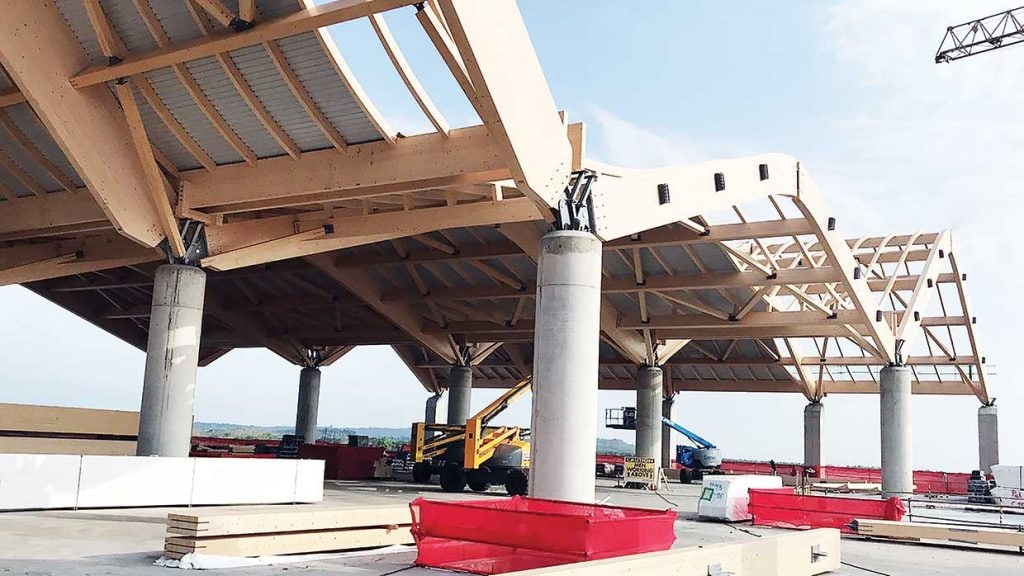 Edgar says it is.
"The glulam timber we used in Mactan Cebu and Clark Airports is treated to be all-weather resistant. Its layers are also treated to be highly resistant to fire, pest, and UV damage. Our team did exhaustive studies and stress tests with our supplier and engineering teams from both Germany and Megawide before we finalized the use of the material for the airports. The engineered wood passed all international standards. Glulam is also a sustainable material. During growth, the trees absorb carbon dioxide. They're also grown and harvested in sustainably-grown forests in Austria," he explains.
Glulam can also withstand humidity more than 95 percent and actually performs better in humid temperatures because this allows the timber to retain its natural moisture content.
How about typhoons?
"It's tested for typhoons and earthquake resistance based on the Philippine setting. It's also treated against pests, considering the strength of termites in the Philippines. The pests will not be able to live inside the wood," Edgar says.
It also has in-built fire resistance qualities.
"We have added extra treated layers to the timber structure to ensure that the structural integrity remains intact in case of fire. How this works is the outer layers will burn slowly and turn to charcoal, thus retarding the spread of the fire. The glulam structure has better fire resistance than a steel structure," Edgar says.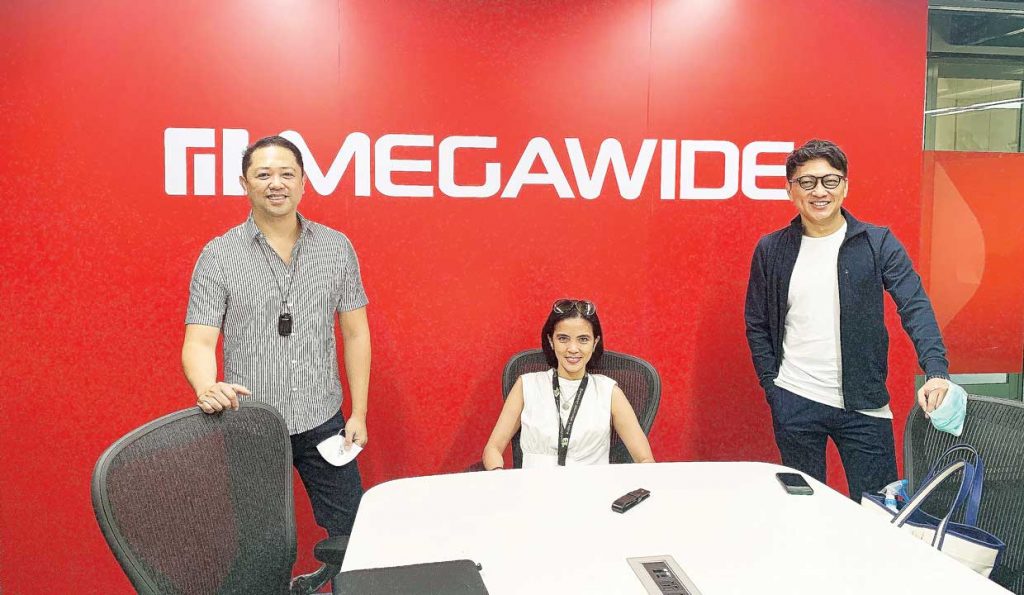 Mactan-Cebu is the first airport in Asia to have a full roof structure made of glulam timber.
"MCIA Terminal 2 actually attracted experts from neighboring countries, those who are among the most advanced in Asia, because they wanted to learn more about the application of the material and the engineering process," Louie says.
Megawide's vision is to help build a first world Philippines through engineering excellence and innovation.
With its glulam design, Megawide is no doubt realizing that dream and is aiming for even bigger and stronger projects.
NAIA, too?
After the Mactan and Clark airports, will we see glulam at the Ninoy Aquino International Airport, too?
Nothing is final yet but Megawide has already been given the original proponent status to rebuild and manage the country's main gateway.
For now, it's still anybody's guess. Maybe good luck comes in threes or, in Megawide's case, good luck comes from trees.