Bruce Lee brought me to Binondo. In the '70s, every Asian kid idolized the martial arts icon. I watched all his movies, bought all his magazines, and enrolled in martial arts classes. But there was something missing—kung fu shoes—that black, lightweight cloth footwear. I wanted to buy the original one so, one day, I skipped classes and walked all the way to Binondo from Sampaloc.
After college, I went back to Binondo as a credit investigator but never ventured into the inner world until I became a tour guide.
Oldest organized Chinatown
Binondo is reputedly the oldest organized Chinatown in the world. The Spaniards donated a piece of land in 1594 to Chinese people who converted to Catholicism. In 1596, the Dominicans built a church in Binondo.
Chinatown is just across the Pasig River from Intramuros and is within cannon fire in case of an uprising. The Spaniards mistrusted them but cannot deny the artisanal work and economic contribution of the Chinese. From a cramped ghetto, it is now a financial hub.
One of the biggest Chinatowns
Binondo is one of the biggest Chinatowns in the world. F. Sionil Jose said that Manila itself is Chinatown. We might as well include San Nicolas, Tondo, Quiapo, and Sta. Cruz as part of Chinatown. In fact, part of Ongpin is located in Sta. Cruz.
Ongpin
Ongpin is the main road of Chinatown. It was named after Roman Ongpin, a businessman and one of the financiers of the Philippine Revolution. It is a mere half-hour, non-stop walk, probably a kilometer or two, but your eyes and palate will feast on a cornucopia of restaurants, jewelry stores, apothecaries, and other chinoiserie.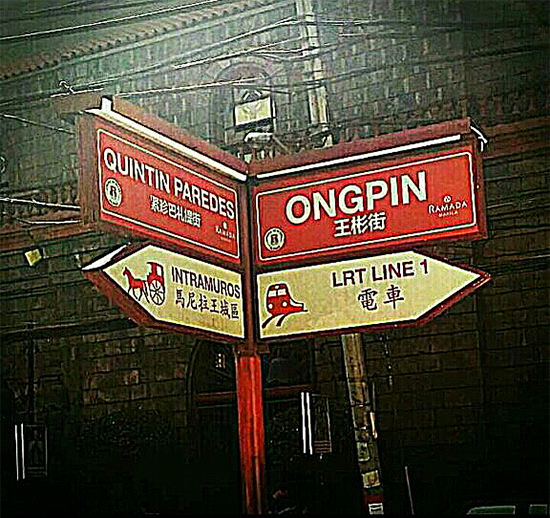 Bee Tin Grocery and Mandarin Supermarket will bring you to Beijing. Exotic fruits and lucky charms are sold on the sidewalk. Chinese drugstores sell traditional herbs and possibly endangered animal parts. There are stores selling Buddha figurines, mahjong sets, incense and other funeral accessories.
Temples and street shrine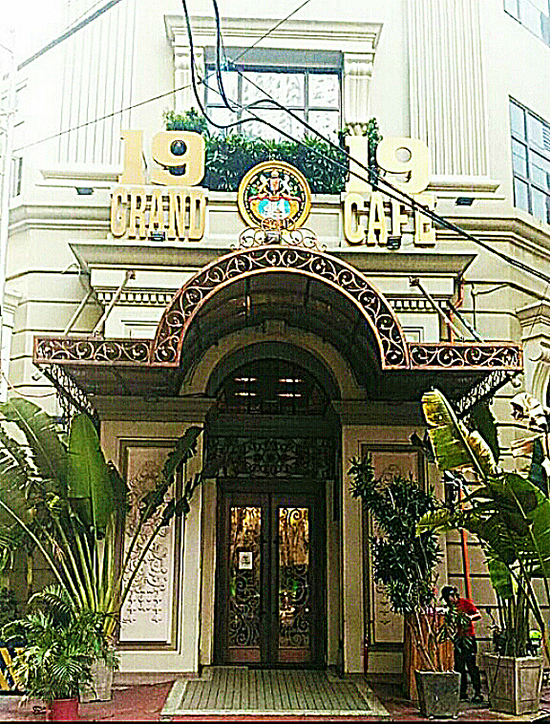 Public and private temples are scattered all over. Seng Guan, on Narra St., one of the biggest and most popular, is a tricycle ride away from Ongpin. Kuang Kong is in a narrow alley called Kipuja. There are also street shrines, the most popular is Sto. Cristo de Longos at the corner of Tomas Pinpin and Ongpin.
Chinese food
Let's face it, people flock to Chinatown because of the food. The rule is: Don't judge a restaurant by the way it looks. Sometimes, the dirtier looking it is, the tastier! Most restaurants have second floors but don't expect to be served as fast as the ones on the ground floor. Servings are always big so it's better and more fun to be with a group.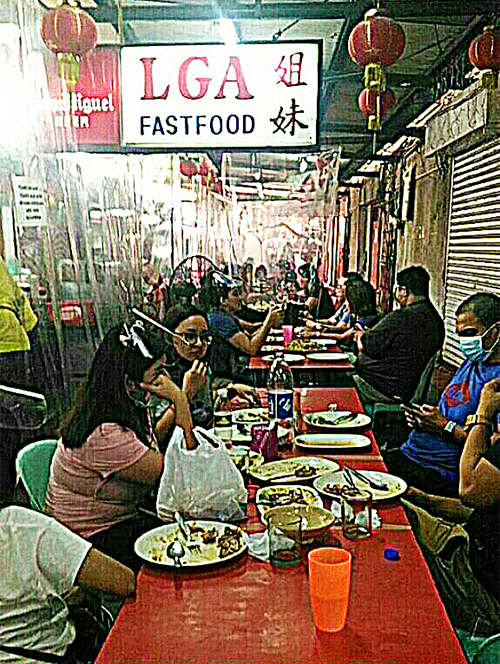 The President Grand Palace Restaurant is your best bet. It probably has the biggest seating capacity and the most extensive menu. Try their fried pigeon for a unique experience. There are also the old "reliables" like Delicious, Sa Lido, and Manosa. If you're not too finicky about your surroundings, head off to Estero. I tried fried garlic frogs' legs but I added lemon chicken.
If you're into fried chicken, there's Ramon Lee at Ronquillo and Sincerity at Yuchengco. The original Savory which burned down hasn't reopened yet. On the other side of Yuchengco is Dong Bei Dumplings, famous for xiao long bao. As you enter this hole-in-the-wall, you will see the staff filling the dough with pork fillings. Next door is La Resureccion Chocolate with their tablea, sweetened or unsweetened.
Gourmet street
For the ultimate Chinese food trip, go straight to Benavides St. The most popular is Wai Ying. During Chinese New Year, there's a long line of customers eager to take out all-time favorites. Their dine-in is equally full. Indulge in curry beef siomai and roast duck mami. At Lan Zhou, they serve hand-pulled noodles. Their Ongpin branch shows a man wearing a toque gingerly toppling the long noodles. Next door to Polland Hopia is Masuki which will transport you to the '60s.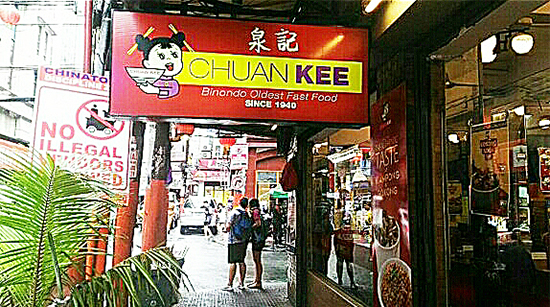 They probably have the biggest siopao or siomai so better order to-go if you've just eaten at the other restaurants. There are a couple of bakeries on Benavides and a wholesale outlet of David's Tea House. At Salazar, there's DEC (Diao Eng Chai) for chicken empanada and Shin Tai Shang Taiwan Grocery for green tea and plum cake. Another Taiwanese bakeshop, Formosa, is found at the entrance of Mandarin Square. At the corner of Salazar and Ongpin is New Quan Yin Chay Vegetarian Restaurant. I eat here quite often because the servings are just right for one person. I also like the self-service hot tea. They also have halo-halo, ginataan and guess what, vegetarian siopao!
If you're in the vicinity of Jones Bridge and the Pasig River Ferry Station, the go-to place is Yin Ying. Operating hours are long (pre-pandemic, 7 a.m. to 2 a.m.). The line outside is long too but don't be intimidated for it is worth the wait. Order hakao and roast duck rice. After pigging out, walk to Juan Luna and marvel at the waning beauty of El Hogar and have coffee and cake at Cafe 1919, the most beautiful restaurant in Chinatown.
Eat and walk
If you just want to eat and walk, don't miss Shanghai Fried Siopao. It has a slightly crispy fried bottom and best eaten immediately. For health buffs, munch on Po Heng lumpia and pair it with next-door-neighbor sugar cane juice. If you want to savor their (almost) vegetarian lumpia, they have a branch on Carvajal with limited seats. For light eaters, this lumpia may be shared with two persons. Also on Carvajal is Quik Snack which lives up to its name. I tried eating here during Chinese New Year and was impressed with their speed in delivering my order.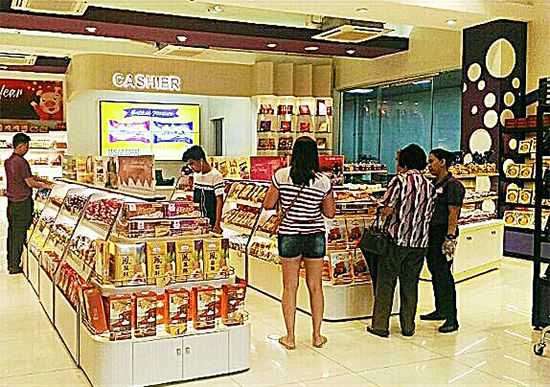 For those who only have an hour or two, visit Binondo Church first then cross to Eng Bee Tin and buy different hopia especially ube. You can dine in the clean, well-lit Great Buddha Cafe Restaurant which also has a souvenir shop. On the third floor is a museum in the making and the cleanest restroom this side of town.
Next door is Cafe Mezzanine which is on the second floor. If you see framed clippings of volunteer firefighters, it's because they are the beneficiaries of this charitable restaurant. On the ground floor is Chuan Kee, the oldest Chinese fast food restaurant, where you can order the libido-enhancing Soup #5. A quick jaunt to Carvajal alley for fruits and lumpia will complete your "express" tour.
Chinatown is not all about food. There are still places I have to explore. Being non-Chinoy, I have limited access to private temples and associations. There's that Buddhist library and tea shop off Ongpin. I haven't been to YMCA Downtown. And, most of all, I look forward to visiting the Kung Fu schools and, this time, I'll bring home Bruce Lee. After all, that was my original plan.
Note: Some details were from pre-pandemic days and may have changed.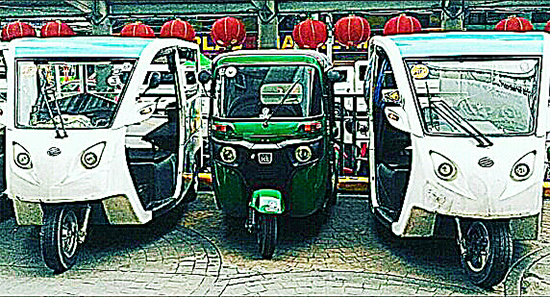 JP Ordona (Manilakad) leads Manilakad Walks in Intramuros, Binondo, Quiapo and more. In between, he writes, climbs, dives and more. Let him guide you to several walking destinations in Manila. Manilakad (JP Ordona) can be reached on Facebook Messenger or through text at (0916) 359-7888.